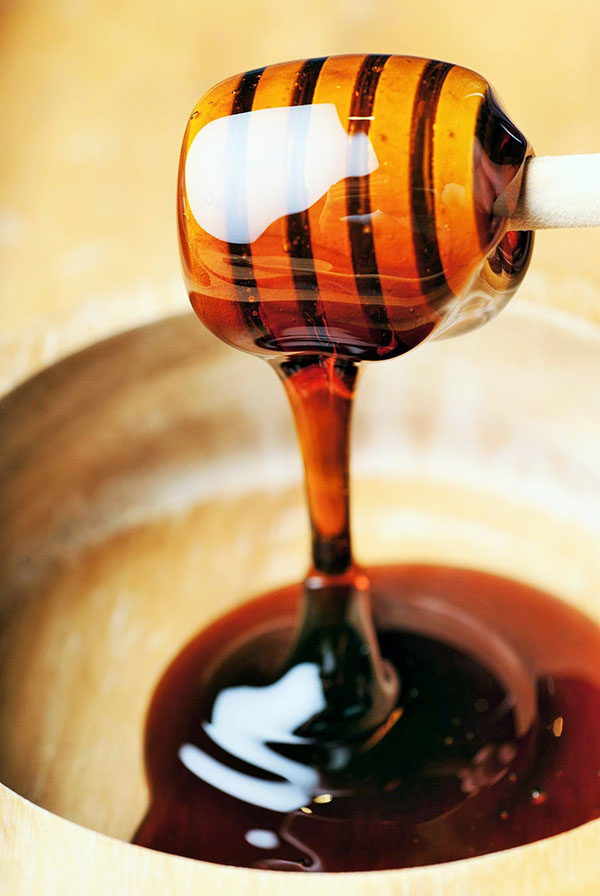 OAK HONEY
Dovas Nikolaos - Producer of Beekeeping Products - Deskati of Grevena

Oak honey can also be found under one of the following names: "black honey", "honey from a tree", "meloura" and "acorn honey".
In the Greek market, oak honey is starting to enter dynamically in recent years and one of the reasons for this delay is its very dark color and its low fluidity.
It has been observed that Greeks prefer liquid light-colored honeys, something that seems to be changing slowly. The wood honey has a very dark color, almost black with a rich caramel taste of low sweetness. Its aroma is rich and transports the consumer to the semi-mountainous forests from where it was collected. As honeydew honey it sugars very slowly, remaining viscous for a long time.
We produce the nutritious oak honey, paying special attention to the quality of the final product, which is perfectly in line with its price. For those who want a honey with a strong character and rich characteristics, we unreservedly recommend oak honey.
Nutritional value

One of the reasons that oak honey is highly valued is its high nutritional value. Rich in antioxidants and minerals such as potassium, iron, magnesium, phosphorus and sodium is our absolute ally for the good health of our body. In addition, it has a high content of enzymes, proteins and vitamins that help in the metabolism and proper functioning of vital organs. AUTH research after comparing 48 samples of honey from around the world showed that dark oak honey has the strongest antioxidant action. Antioxidants are very important for the proper functioning of our body by shielding our immune system. An important feature that boosts the nutritional value of oak honey is its high content of pollen grains.
Oak honey has beneficial properties and helps the good health of the body. It soothes the flu and disorders of the intestine and urinary system thanks to its antimicrobial, disinfectant and astringent properties. Its high content of nutrients has a positive effect on fatigue, positively affecting the strength of our body. Additional research has shown that it can help treat hemorrhoids. The soothing properties that help those who have problems with insomnia, a drink with hot water and a spoonful of honey are what you need to relax before bed.